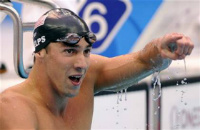 [Repost from older blog. Original posting date: Sept. 10, 2008] Five days into Olympic competition in the 2008 Beijing Summer Games, the president of the International Olympic Committee (IOC) Jacques Rogge declared Michael Phelps "the icon of the Games." We know that in sporting and entertainment events there are always favorites, heroes, and stars, but when the head of IOC (not the U.S. Olympic Committee, but the International Olympic committee) goes so far as to declare an icon for the entire Games—that's interesting from a branding perspective. "The Olympic Games live around superheroes…. And that's what we need to have," stated Rogge.
Need to have, he said.
Our need for icons—or in this case uber-icons—is what really? It's a matter of concentrated focus. When you have an icon, it concentrates our attention on a person, product, or thing. The icon's story becomes clear and manageable to hear, even in our info-glutted society. Also, that attention draws more attention. It's a universal principal: focused energy produces even more energy. Or as the saying goes: a crowd attracts a crowd.  The Beijing Olympics were the most-watched in history; global TV broadcasts during the first ten days of the Games attracted a cumulative TV audience of 4.4 billion viewers—or almost two-thirds of the world's population. In fact, at a time when the television airwaves are flooded with more options than ever, these Games became the most-watched U.S. television event of all time (211 million viewers in 16 days). And, the phenomenon was not just relegated to the airwaves: NBCOlympics.com had unprecedented hits & video streaming—with the top stories all centered around Phelps.  The fact the Beijing Games had a Michael Phelps—a brand icon—focusing attention and fueling perception in ways that that are quick to consume (concentrated) is what made this record-breaking visibility possible.
This is a great illustration of the power of concentrated brand focus.
SUMMARY: Develop a stronger brand identity by aligning the story and core values of your organization or flagship product or service with the same core values existing in heighten focus within a certain person, persona, image, place, or attribute.  This person, persona, etc…. becomes your brand icon.  Add this into your brand-building efforts and watch your market visibility increase.