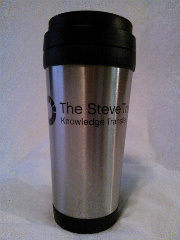 A few weeks ago I was fortunate to attend the all-company 2013 kick off meeting of a client, The Steve Trautman Co. This Seattle-based client runs a consulting company that has been setting the gold standard in knowledge transfer solutions for the past decade and serves a blue chip client list, such as Boeing, Microsoft, Costco, Nike, Goodyear, Cadbury, Electronic Arts, and others. HeLT began working with The Steve Trautman Co. in 2010 and led the company through a rebranding, using our C.O.R.E.E Brand Positioning process.  We repositioned the company's brand to focus on their leadership in knowledge transfer, changed the company name, streamlined their product offerings, and devised a simple way to present what they do to the marketplace (e.g. introduce their knowledge transfer tools as a simple, 3-step process).  We have continued to work with this client to provide on-brand marketing services.
The Seattle meeting was truly a validating personal experience for me because this is a client that went through HeLT's complete branding system and has fully embraced what good branding can do for a company.  They followed our process, did their homework, walked their talk—and now are reaping the benefits of increased brand equity in the form of better quality clients, substantially larger consulting contracts, increased repeat business, and more interesting projects.
And at the end of meeting, the company's Principal, Steve Trautman, handed out the chotskies: coffee mugs featuring their new brand identity and tagline. Now, branded coffee mugs is hardly a startling leap forward in innovative uses of one's branding, but, for myself, it was still very fun to see.
The real gift for me, though, was to hear the comments shared by Steve and The Steve Trautman Co.'s master consultants about how the company has developed and grown since our rebranding.  Here are a few examples:
"I think we're getting a better class of client now."—a master consultant

"The product is very good. It feels so logical, so simple in its presentation. But there's really a lot of complexity going on behind the scenes to create that simplicity for the marketplace."—a master consultant

"A lot of our change and recent growth has been a result of our work with Heidi and the rebranding."—Principal Steve Trautman
For more information about this client project, click on our corresponding before-and-after branding portfolio.