Do you know what a great sign of a really strong brand is? When others in the marketplace tell the story of your brand for you. Here's another fun client anecdote that illustrates a second important advantage of having a powerful, clear brand: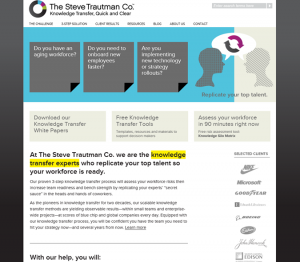 I recently was asked to attend a company meeting of one my rock star clients, The Steve Trautman Co. (STC). This Seattle-based consulting firm is today's leading expert in knowledge transfer and serves a blue-chip client list—such as Boeing, Nike, Microsoft, Goodyear, U.S. Steel, Aetna and more—with global solutions in knowledge transfer. HeLT had led STC through a rebranding just over three years ago and has since served as their brand manager. The gathering I attended included the company's employees and contractors, plus a new strategic partner whom I hadn't met. This new partner—Kathy Hagen of K L Hagen Intellectual Capital Strategies—would soon begin helping STC with some account management and sales. The interesting thing is that Kathy is, by all extents, a Steve Trautman competitor. She runs one of the few successful businesses that specialize in the same field (knowledge transfer) and targets a Fortune 100 to 500 client list as Steve's firm does. Also like Steve, she has been doing this work for decades and positions herself as a thought leader.
A few minutes into the meeting while introductions were being made, Kathy addressed this issue directly. To my surprise, she started off by looking at me and saying, "I want to thank you. Without your branding work, I wouldn't be here.  It is because of Steve's brand that I am able to be here." 
This new strategic partner went on to explain that because the STC brand was presented so clearly in the marketplace, and because she could perceive how Steve Trautman had positioned his firm to clients, she could understand without much effort how her own offerings to clients differed in value from STC's. There is some overlap, she admitted, but it was not enough to cause her to walk away from a strategic partnership opportunity when Steve initially reached out to her.  "I could tell there was enough difference in our actual knowledge transfer processes and in the way our two companies market ourselves that I was willing to take Steve's call and explore options." 
I was so overjoyed when I hear this at the meeting, I just knew I had to blog about it. It meant we had all played our role developing and representing the brand well. Now, instead of competing against each other, two these thought leaders are collaborating. In some cases, Kathy is recommending people in her network to STC for what Steve's company can provide (STC's service is quicker, includes a risk assessment framework, and is more scalable enterprise-wide); STC is recommending their clients to Kathy when those organizations  want to go deeper (her business works more one-on-one and delves further into tacit knowledge). Kathy said at the meeting that without the clear brand apparent in all STC does, she would not have felt comfortable entering into this strategic partnership.
SUMMARY: Having a focused, strong brand enables an organization to more easily find and collaborate with strategic partners.   By clearly communicating to the marketplace what values you stand for and compete on, you are not limiting your opportunities for partnership—as some incorrectly assume.  You are signaling where, with certain parameters, common ground can be found.